Harry Styles tells One Direction fans: 'Don't Go to SeaWorld'
One Direction is currently on tour in the USA, at a recent show in San Diego singer Harry Styles told fans 'Don't go to SeaWorld.' Game of Thrones star Maisie Williams captured the moment on camera and shared it on Instagram:
SeaWorld responded on twitter, but the message was heard loud and clear by One Direction fans worldwide.
.@Harry_Styles, if you want to see what SeaWorld is really about, we're happy to show you and answer your questions. http://t.co/Jc0rYxZe2n

— SeaWorld (@SeaWorld) July 10, 2015
PETA claims that SeaWorld sent in a spy acting as an animal rights activist
There was shocking news earlier this week that a SeaWorld employee had infiltrated animal rights groups and posed as an animal rights activist. Earlier this week PETA accused activist Thomas Jones of being Paul T. McComb, a SeaWorld employee.
You can decide for yourself, below left is a photo of Thomas Jones boycotting SeaWorld and right is a photo of SeaWorld employee Paul T. McComb.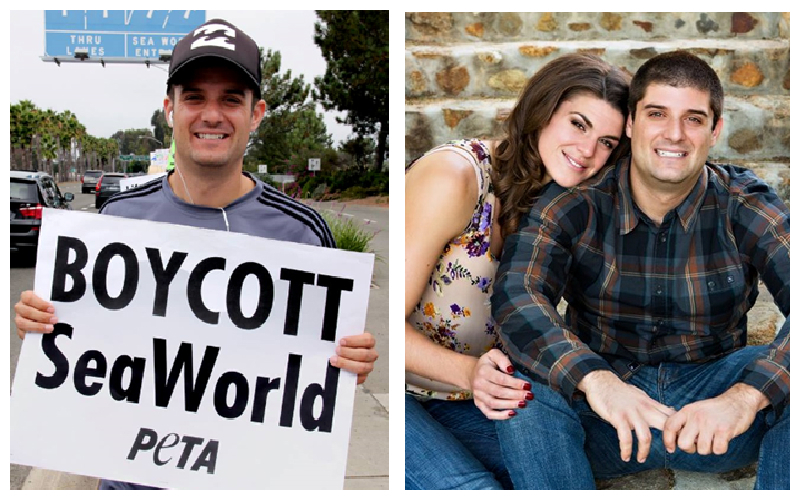 Read more on this story via The Dodo.
Company shares of SeaWorld Entertainment drop 5.1% in one week
Since the release of Blackfish, there has been a huge drop in attendance and stock prices of SeaWorld. At the end of last month, SeaWorld shares dropped a staggering 5.1% in one week.
Read more on this via News Watch International.